Astek Corporation Announces Gen3 x16 PCIe External HBA With Multiple Sideband Signal Options
Colorado Springs, Co (August 9, 2017) – Astek Corporation, a leader in storage switch technology for over 15 years, is proud to announce their A73208-PCI product, an 8Gb PCIe Gen3 external host bus adapter.
ASTEK has a long history of working and creating joint solutions with Broadcom's storage IC products. Astek Corporation is well established in the SAS Switch storage market and this marks their key product launch into the PCIe switch market. Using the most advanced Gen3 PCIe controller available, the PLX PEX9733 PCIe Switch controller (Rev B0), external PCIe connectivity is now available for the enterprise market.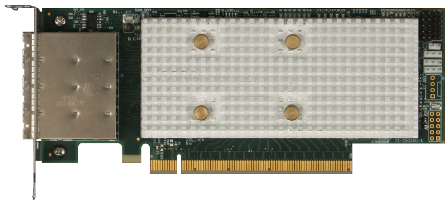 Astek's A73208-PCI provides an enterprise solution in a HHHL form factor with a x16 PCIe Host interface and uses passive heat sinks (no active fans) for cooling. It uses industry standard quad x4 external Mini-SAS HD connectors for connectivity to external JBOFs. The A73208-PCI supports SRIS, SRNS and NON-SRIS reference clocking for downstream ports. The A73208-PCI is 100% compliant with the PCI SIG External Cabling Specification, Revision 3.0, Version 0.7 and later. "The NVMe SSD market is now moving from simple drives in a server to complete flash arrays (JBOFs) that require fast scalable external connectivity with low latency. Astek's A73208-PCI extends the server PCIe bus directly to the flash array with no protocol conversions resulting in minimum latency and maximum scalability," said Bruce Grieshaber, Director of Marketing at Astek Corporation.
The A73208-PCI cable "Sideband Signals" are software configurable and can provide strict PCI SIG compliancy or options for PCIe Resets and PCIe 100Mhz reference clocks. In addition, the Sideband Signals can also support downstream messaging and active optical cables (AOC). Software configurability is provided via a UART that allows customization, FW updates, access to status/test features and it is all done through a simple CLI. "The great thing about Astek's A73208-PCI is the enterprise features and configurability it provides to address different external PCIe Sideband Signal connectivity requirements," said John Ayer, Product Manager for DCSG Board Solutions, Broadcom. The A73208-PCI has an MSRP of $950 (Volume pricing is available).
Click A73208-PCI INFORMATION for more information on the A73208-PCI.
ABOUT ASTEK
Astek has been providing world class products to the Storage and Test and Measurement markets for nearly 20 years. Astek provides both external PCIe and SAS connectivity in the storage market with a focus on switching applications. Astek develops and manufactures Gen3 PCIe Switches in HBA forms, along with Gen2/Gen3 SAS switches in both HBA and 1U form factors. Astek's storage connectivity solutions include SAS, SATA, Fibre, and PCIe.
All trademarks, trade names, service marks and logos referenced herein belong to their respective companies.
For more information:
Contact: This email address is being protected from spambots. You need JavaScript enabled to view it.
Astek Corporation
Call +1.719.260.1625, x100
www.astekcorp.com